Biringer Nursery, LLC was started by Joe Sr, Mary Ann, Melissa and Joe Jr Biringer in 1974 in Marysville, Washington. For over 40 years they have been a family operated business. The farm relocated to the rich, fertile soils of beautiful Skagit Valley in 1989. The nursery emphasizes on producing top quality bare root fruit, flowering, shade trees and deciduous shrubs.
During the early seventies, Joe Sr was working in Seattle as an x-ray service and sales engineer. However, this was not his passion. He grew up on a family farm Biringer Farm in Marysville, Washington and was eager to return to his background in farming. With the help of Herbert Frost, of former Frost Nursery, Joe started what is now Biringer Nursery, LLC.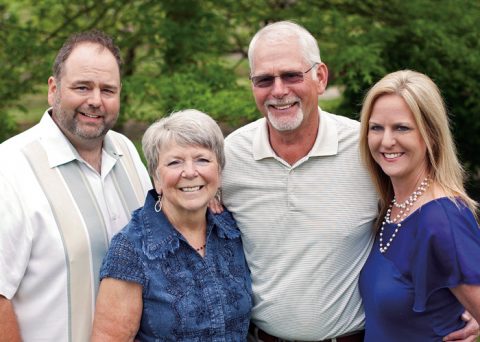 In 1974, the nursery planted its first acre of trees which has now grown into over 150 acres of trees and shrubs in production. Biringer Nursery, LLC. is constantly looking for ways to increase production while keeping a high quality of plant material. For instance, the nursery works closely with Washington State Research Station to keep informed on new disease resistant varieties. Such as the Frost Peach®, one of the only varieties that is Leaf Curl resistant.
Biringer Nursery, LLC. specializes in the new dwarf and flowering cherry trees on Gisela™ root stock, Espaliered and Combination fruit trees, and contorted flowering and shade trees. The nursery offers their customers complimentary picture tags for many of the varieties they produce. Because they are a small business, the Biringer Family are still involved in all aspects of growing, grading, shipping, and consulting to ensure the highest quality products.
The nursery promotes their products through catalogs, trade shows and most importantly through recommendations from satisfied customers. Joe and Mary Ann Biringer have slowed down and passed on more responsibility to their two children. Missy and Joe Jr., along with a dedicated staff, continue to oversee and produce high quality products as the family has for many years.